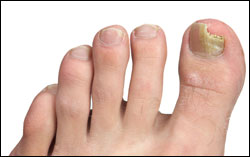 If you've been living with chronic toenail fungus in New York City, laser treatment could finally be your solution.
Some research has found that about 35 million people worldwide have experienced fungal infections at some point in their lives. While this fact certainly won't make your nail fungus go away, it's nice to know you aren't alone. While toenail fungus is avoidable, age, poor hygiene and immune problems also put people at risk for these infections. If you've tried every topical or oral antifungal under the sun and still haven't gotten rid of that pesky foot problem, then it's time to find out more about how laser toenail treatment in New York City could give you the relief you need.
What is laser toenail treatment?
Since the FDA's approval of this procedure over four years ago, laser toenail treatment has become fairly common for those looking for relief from their toenail fungus. Using a laser, we shine the beam through the toenail to kill the fungus growing under the toenail without harming nearby tissue.
What are the pros of laser toenail treatment?
If you've taken lots of antifungals in the past, you may have experienced some less than pleasant side effects. If this is the case, you'll be happy to hear that laser toenail treatment has no side effects. If you hate the idea of taking medication, then getting laser toenail treatment in New York City is a safer solution for you. Laser treatment is very effective at targeting and killing pervasive fungus that hasn't been relieved through the use of other more conservative measures.
Are there any drawbacks to this treatment?
While laser treatment is effective in treating your toenail fungus, you won't walk out of the office with a healthy-looking toenail. Your healthy, clear toenail still needs time to grow in. While the infection will be gone, it will take a couple months for the new toenail to grow in clear.
What is the procedure like? Does it hurt?
The procedure takes about 30 to 45 minutes per infected toenail. The procedure is relatively painless, but some patients have noted that the laser produces a warming sensation around their toe. Some have noted the feeling of a tiny pinprick. Usually one session is all that's needed to effectively treat the fungus. No drugs and no anesthesia are needed for this laser treatment.
Is there a recovery period?
Since anesthesia is not needed, there is really no recovery period. After your laser treatment in New York City, you are free to carry on about your day. In less than an hour you could have a fungus-free toenail.
Will this get rid of my toenail fungus for good?
While this laser treatment will get rid of your fungus, there is no guarantee that you will never experience another infection again. We will offer tips for preventing these infections in the future; however, fungus is all around us, and for those who are more prone to infection, it might be harder to remain infection-free.
Ready to give your toenail a fighting chance? Want to be able to don those fun sandals next summer? Then call us today to setup your laser toenail treatment in New York City.